At LR-J Health Solutions, health insurance is our passion, and we have been honored to help countless individuals and families across both Arizona and California secure affordable coverage over the years. Our specialty is building custom health insurance plans to uniquely satisfy each client's unique needs, because we understand that healthcare coverage should never be one-size-fits-all. When someone comes to us looking for health insurance solutions, we always take the time to learn all we can and then use our expert knowledge so we can tailor a plan that provides the best coverage at the most affordable price. 
Over the years, we've been lucky enough to build lasting relationships with so many clients, and it's been a privilege to continue to be their health insurance agent through all stages of life.  There's never a greater compliment than when a client gives us a glowing referral, which is how our business grows. Every so often though, we get to help people we already know and love find the perfect plan, such as Laura's longtime friends, Tim and Pam.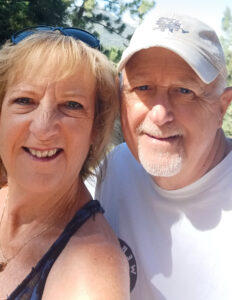 Tim and Pam, Living Their Best Retired Life
As a retired couple with 3 grown daughters and one very active 15 year old son, Tim and Pam understand the importance of staying active and healthy. The two met when they both worked in the banking and financial industry and now live in Chandler, where they've been neighbors with Laura for the past 13 years. They are truly living their best life in retirement, as they travel quite a bit camping and hiking with their son who's very involved in Boy Scouts. They recently spent time in Hawaii, and frequently visit California and Nevada, where Tim also volunteers at off-road races.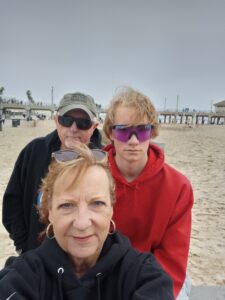 Throughout their lives, the two have always made their health a priority, incorporating many different forms of exercise into their daily lives. Decades ago, when Tim worked in the lower level of a department store, he took note of the "mall-walkers" who would use the mall as their walking track before the mall opened. One day, he decided to use his lunch break to walk the mall while eating an apple, and the habit stuck. To this day, he regularly walks and jogs around 5 miles a day on an indoor track.  
On the other hand, Pam isn't a fan of walking in circles on an indoor track, instead preferring to spend her time walking outside and incorporating many different activities to stay healthy, such as water aerobics, yoga, weight-lifting, and golf. Pam even got Laura into golfing, but is a bit dismayed as to how Laura manages to consistently win when the two hit the links together!
A Customized Health Insurance Plan Just Made Sense
Throughout their careers in banking, both Tim and Pam always relied on employer-provided benefits for their healthcare coverage, and were on the same plan for years. Like many people, Pam is quick to note she has always hated insurance! She explains that even if someone is going to go with their basic employer provided plan like she and Tim did for years, it can all be extremely complicated and difficult to understand. There are often so many different products and options included in each different plan, which is why it's not uncommon for many Americans to never truly understand their coverage. And if people don't understand what's included in their coverage, that means they're likely not taking full advantage of the benefits available to them.
After years in banking, Pam took time off work to raise their son and take care of her elderly mother, returning to work for an HOA management company for a while before retiring for good.  A few years ago, after 45 years in his industry, Tim was forced into early retirement. All these changes meant the cookie-cutter plans provided by their employers were no longer an option, so Laura, being the insurance expert she is, was quick to offer to help her close friends. She took the time to understand their specific needs and evaluate their unique situation of where they were in life while also planning for the future. Laura was then able to custom-tailor individual plans for each of them, and took the time to teach them about their products so they could get the most out of their benefits. For example, the two are thankful for their membership to Silver Sneakers, which is part of their Medicare plans. The program includes live online fitness classes, on-demand videos, and access to free gym memberships, allowing Tim and Pam to frequent their local recreation center.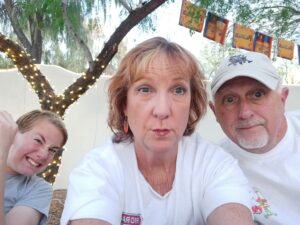 Why Should You Choose LR-J as Your Health Insurance Broker?
As Tim and Pam neared retirement age and Medicare became an option, they were inundated with fliers and calls from countless health insurance brokers, as many people are. Pam states, "We were bombarded by insurance agents and there were so many options that were all so confusing. It was going to take a lot of work to decipher what would be the best coverage for the best price." 
Luckily, their longstanding and close friendship with Laura meant they already knew she had a passion for helping others. They knew she loved to assist people better understand their health insurance options, so she was an obvious choice when selecting an agent that could help them navigate all of the choices available to them. And she's been a fantastic asset ever since! As Tim says, "It became quickly apparent that Laura knows her stuff! She looked at our situation closely and put together different options for us to choose from. She's extremely thorough and explains everything very well so it's simple to understand."
So, in a world where health and financial security are paramount, partnering with a knowledgeable health insurance broker like Laura is a wise choice. Her expertise, and commitment to your overall well-being will ensure that you're equipped with the best possible coverage for your unique needs. 
From finding the right plan to ongoing support, LR-J is ready to be your trusted companion throughout every stage of life. If you have questions about how to secure health insurance coverage at an affordable price well within your budget, get in touch with LR-J today via phone at 480-779-8253 or by email – [email protected].