As an experienced health insurance broker serving both Arizona and California, we specialize in connecting with our clients to make finding healthcare insurance an easy and simple process. LR-J Health Solutions works with a large network of carriers, and are able to build custom health insurance packages to cover you and your family. We are humbled to be able to help Arizona and California residents navigate their options beyond just private insurance or employer-sponsored insurance- we can help you determine your Health Exchange Coverage options. Due to COVID-relief legislation recently passed, health insurance is more accessible and more affordable than ever before.
Since 2014, the Affordable Care Act (ACA) has provided subsidized health insurance on the federal Marketplace, HealthCare.gov, and on state-run Marketplaces. Despite 9 million people purchasing coverage with federal premium help, there are still millions of people uninsured despite their eligibility to purchase on the Marketplace, in addition to the many whose incomes disqualified them from a subsidy. However, in March of this year, the COVID-relief bill, the American Rescue Plan Act (ARPA), was passed, making health insurance coverage more accessible and more affordable for many, many Americans. 
How the American Rescue Plan Affects Subsidies
At LR-J Health Solutions, we have spent countless hours getting up to speed on how the American Rescue Plan Act affects health insurance coverage, and one of the most exciting provisions is that it expands eligibility for ACA premium subsidies for those enrolled in healthcare plans. 
People up to 150% of the Federal Poverty Level can now get silver plans for zero-premium with greatly reduced deductibles.

Before the ARPA was signed, premium marketplace subsidies were partial; meaning, people had to contribute something toward the cost of the benchmark silver plan, no matter how poor.  Now, the benchmark plan will be fully subsidized for people earning up to 150% FPL, so they can qualify for premium-free silver plans with modest deductibles.
Premium subsidies have also increased for people at higher income levels.
For the first time, premium subsidies are now offered to those with income above 4 times (400%) the federal poverty level. Under this new plan, those with higher incomes will not be required to contribute more than 8.5% of household income toward the benchmark plan. Those who have previously been forced to buy their insurance outside of the marketplace, including those who bought non-ACA compliant plans, may want to return to the marketplace since coverage is now more comprehensive and affordable.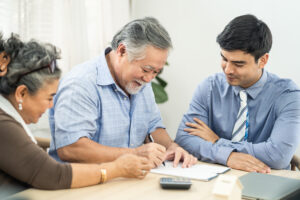 LR-J Health Solutions Is Helping People Take Advantage of The ARP
We love to take the stress out of the process of finding affordable, comprehensive health care coverage for individuals and families. Here are a couple examples of how we helped some of our clients take advantage of the enhanced subsidy provisions of the American Rescue Plan Act.
Previously, a family of four making $110,000 a year did not qualify for a Tax Credit. An Affordable Care Act Plan in the Silver category would have cost them $1850 per month, so they opted for a short-term plan where they sacrificed coverage for pre-existing conditions, as well as preventive services for about $900 per month.  These plans all have a time-bound term so when they expire they take the chance of someone possibly not qualifying again.  Because of the ARP, LR-J Health Solutions was able to use that income and apply for a tax credit.  Their subsidy is $1026 per month and they pay $826 in premium. They also chose to add dental and vision for the family, so they are getting more coverage for their money. The best part? Under their new plan, pre-existing conditions are covered as well as all preventive services and drug costs!
Recently, we helped a retired couple earning over the old threshold.  He went on Medicare and she has another year to go and has pre-existing conditions. Her COBRA cost is $750 per month.  Prior to the ARP, the Marketplace plans cost the same as COBRA, and they simply do not have it in their budget to pay that much in health insurance costs so she chose a health sharing plan for about $550 per month.  These plans come with no drug coverage, so she has to pay out of pocket for her prescriptions.  Now, because of the ARP (and the help from LR-J), they now get a tax subsidy of $528 per month. So, she is now paying $230 per month for her comprehensive medical coverage.  This will take her all the way to Medicare!
The Special Enrollment Period Has Been Extended 
All of the premium subsidy enhancements are retroactive, so they are effective for all of 2021, and will continue to be effective through 2022. Curious about what subsidies you may qualify for? The Special Enrollment Period (SEP), has been extended through August 15, so it's not too late to consult with LR-J Health Solutions to determine your options. Because of the SEP extension, there's never been a better time to enroll, change, upgrade, or downgrade your plan to save you money without sacrificing coverage. 
Our goal is to keep you informed, connected, and covered. Reviewing your health insurance coverage with an experienced, passionate broker like Laura Ritchie-Johnston means you can be confident that you'll find the best health care solutions for you and your family. Please don't hesitate to contact us; we can also be reached via phone at 480.779.8253 or via email – laura@LR-Jhealthsolutions.com. We look forward to hearing from you!