LR-J Health Solutions is a trusted health insurance broker, licensed in both Arizona and California. Our unparalleled expertise comes from years of building custom benefit packages for individuals, families, seniors, and small businesses. One of the best parts of what we do is getting to build relationships with each and every client we serve, and getting to understand their individual needs to better serve them. 
There have been lots of changes to the healthcare industry over the years, especially with the Affordable Care Act, and we know it can be a lot to keep up with. The pandemic has brought even more changes, so it can be difficult to understand your options when it comes to securing an affordable, comprehensive health insurance policy. It's our honor to provide our clients with the knowledge and expertise necessary to cut costs without sacrificing coverage.
Retiring? We Can Help Build an Affordable Health Insurance Plan 
Last year, we were able to work closely with Jim and Debra to solutionize a plan for their healthcare needs. Living in Chandler, Jim and Debra were both still working with plans to retire at the end of 2020 at the ages of 58 (Jim) and 64 (Debra). With an annual income of $100,000, they were both under Jim's health insurance at a cost of $440 per month. Debra turned 65 in June of this year, so she was able to go on Medicare then; however, there was a gap of time that we had to figure out coverage for her, in addition to costs for Jim. The cost of COBRA was $1450 for the both of them (with the price dropping to $725 in June), and that was too high of a cost to be sustainable. LR-J was able to enroll them in an ACA plan and ask for a credit of $1245 every month, which brings down their ACA premium to $495 for the both of them! We look forward to our continued relationship with Jim and Debra as they enjoy retirement!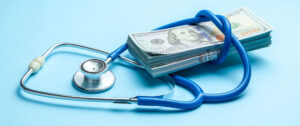 LR-J Helps Families Save Money on Health Insurance Premiums 
We love to help families with their health insurance needs too! John (age 36) and Lynn (age 35) just welcomed their third child, Betsy, into their family in December of 2020, and we were thrilled to build them a custom policy. John is a self-employed contractor, with an annual income of about $250,000, and wanted to save on their premiums, especially with a new baby on the way. Then premiums on their high-deductible plan were $1175 a month as a family of four, which covered John, Lynn, Jason (aged 7), and 5 year old Mark who has Eosinophilic Esophagitis (EoE). When Betsy was added to their plan, their premium rose to $1396 per month! 
Using our know-how, we formulated a plan to save them money every month on their premiums. Mark and Betsy remain on the ACA plan for $442 a month, and we created an underwritten medical plan for John, Lynn, and Jason for $475 per month for a total of $917 per month! That's a savings of $479 per month, which works out to be $5,748 annually, and all five are covered!  
Why Should I Use a Health Insurance Broker? 
No matter your situation – whether you have employer-sponsored benefits, are retired, are self-employed, or otherwise,  you may be wondering why you should use a health insurance broker. You may feel like you have a pretty good understanding of your benefits and the options available to you, but our experience has shown time and time again that we are able to open our client's eyes to money-saving options they didn't know existed! An experienced health insurance broker, like LR-J, is like your personal shopper for health insurance. Once we assess your needs and situation, we are able to make personalized recommendations based on your unique circumstances, all with the goal of saving you money without compromising coverage. Plus, once your health plan is purchased, we remain available to assist you in maximizing your benefits, answer all of your questions, and help with any problems regarding billing, medical claims, and appeals. 
One of the best parts? LR-J's services are FREE to you. Our services cost you nothing! LR-J Health Solutions represents over 120 carriers to build the best coverage possible for each client, including our ability to understand the ins and outs of the Affordable Care Act, Medicare, and all of the other state and federal programs designed to keep Americans covered and healthy. We thrive on building trusting, lasting relationships with every client, so we aren't here to oversell you on products you don't need. Our bottom line is to save you money and provide you with value.  
Don't let the idea of shopping for coverage overwhelm you; get in touch by filling out our online contact form, send us an email at [email protected], or give us a call at 480-779-8253.