Certainly no one likes to think about leaving their loved ones, but it's inevitable, and no one wants to burden their loved ones with expenses and financial stress. At LR-J Health Solutions, we are health insurance brokers serving both California and Arizona and life insurance is one of the many products we are proud to offer.  Since September is Life Insurance Awareness Month, a campaign designed and supported by leaders in the insurance industry to educate people on the importance of investing in life insurance at every stage of life, we want to do our part in educating the clients we are honored to serve. We are always available to answer your questions and provide solutions for all of your insurance needs, so please don't hesitate to contact us.  
What is Life Insurance? 
Life insurance is a contract between a policy owner and an insurer which guarantees that the insurer will pay out benefits (a sum of money) to beneficiaries named by the policy owner when they pass on in exchange for premiums paid by the policyholder annually or monthly.
For many, death comes without a warning, and the enormous unexpected expenses of a funeral and other financial obligations are often too great of a burden for most Americans. Life insurance can obviously pay for funeral and burial expenses, but also protect your mortgage, pay off bills, and protect the financial future of your loved ones, including investing in education. And it's very affordable.
I'm Young and/or Healthy; Do I Really Need Life Insurance?
First things first. Yes, you need life insurance; even if you're young and even if you're healthy. Especially if you have someone who depends on you financially for support. Life insurance gives you and your loved ones peace of mind while you're still here, and financial benefits for your loved ones once you're gone. Additionally, purchasing a policy sooner, rather than later, can provide more flexibility and options for the financial security you'll want later in life. And as the adage goes, "tomorrow isn't guaranteed." So it's best to make sure you're covered before it's too late. 
How To Determine What Life Insurance Plan is Right For You
There are two different types of basic life insurance: term insurance and permanent life. The traditional type of insurance is term life insurance, in which you pay a monthly premium for a set period of time, usually 10-30 years. If you pass on before the term expires, those you've named as beneficiaries receive a payout. For a young, healthy policyholder, the average cost for term life insurance is about $15-$25 per month. Just keep in mind that premiums are lowest when you are younger and will increase upon renewal and some policies require a medical examination at renewal in order to qualify for the lowest rates. 
On the other hand, permanent life insurance doesn't have a set expiration date and instead lasts the entire duration of the policyholder's life with a guaranteed cash value, which makes it a more expensive insurance option. However, unlike a term life insurance policy, the premium in a permanent policy remains the same as you age. Also, it should be noted, there are different types of permanent life insurance: 
Whole Life:

This is the most well-known and simplest form of permanent life insurance. Whole life accumulates cash value into an account that you can tap into for funds later in life. 

Universal Life:

With flexible premiums that can be adjusted over time, universal life has a cash value component that earns interest, and it can be designed with a level death benefit or an increasing death benefit as you age. 
Indexed Universal:

This type of policy can assist you in building wealth while leaving behind a death benefit for your beneficiaries. IUL policies provide greater upside potential, tax-free gains, and flexibility for those who can put up a large up-front investment. 

Variable Universal:

With this policy, the policy owner can invest the cash value of the policy in an available separate account, and also has flexible premiums and can also be designed with a level death benefit or an increasing death benefit.
So, how do you choose? Should you pay less and invest more, or choose life insurance that'll pay your premiums back or hold its value no matter how long you live? Consider these points:
It might be wiser to invest in a term life insurance plan if:

You have young children and want to ensure they'll have funds to pay for college should something happen to you.

You want your life insurance plan to be able to repay a debt that will be paid off in a specified amount of time, such as a mortgage.

You have a limited budget, but need a large amount of life insurance for your beneficiaries. 

Instead of paying higher premiums into your policy, you want to use additional funds for investment into other financial goals. 

On the other hand, it might be a better choice to consider permanent life insurance if:

You need life insurance for as long as you live. A permanent policy will pay out a death benefit to your loved ones whether you pass on tomorrow or live past 100. 

You want to accumulate savings that will grow on a tax-deferred basis and could serve as a source of borrowed funds – even if your credit is shaky. If you die before the amount you borrowed is paid, your insurance company will collect what is due before determining the amount that goes to your beneficiaries. 
We get it – that's a lot to consider! The answer truly depends on your individual needs, financial situation and how much discipline you have investing – and LR-J Health Solutions can help you navigate those choices.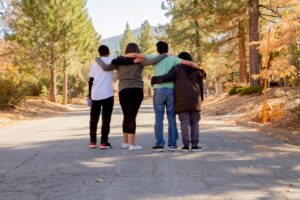 An Arizona and California Insurance Broker Who Cares
At LR-J Health Solutions, our priority is providing personalized service and understanding each of our client's individual needs. Connecting people with the perfect insurance plan and helping them understand their products is our passion, and we gladly offer free consultations and no-obligation quotes about the best plan for you.  with options available from more than 500 providers. Call 480.779.8253 or email [email protected] to get started.