To kick off a new year, it's common for people to make resolutions about their physical health and even their financial wellbeing – but what about mental health? Given the unprecedented year that was 2020 and the already-rocky start to 2021, it's more important than ever to make mental health a top priority. The good news is talking about mental health is no longer taboo, and because of the growing demand for sustaining mental wellness, most insurance companies do provide some level of coverage for mental health services. At LR-J, we are health insurance brokers serving both California and Arizona and we are profoundly committed to helping our clients navigate this pandemic and their policies, so if you have questions about what your health insurance policy covers when it comes to your mental health, please don't hesitate to ask. 
Mental Health – It's Time to Make It a Priority
A new year always brings such promise and renewed feelings of hope, and for most people, that was especially true as we all eagerly said "goodbye 2020, hello 2021!" And here we are a month into 2021, and the pandemic continues to rage, with Arizona and California still being some of the hardest hit states (CDC COVID Data Tracker). Vaccine distribution has begun which brings hope of better days to come, but experts estimate that herd immunity isn't truly possible until at least the fall, and a return to "normality" is not possible until the conclusion of 2021 (Harvard News). 
In addition to the stress and uncertainty associated with COVID, on January 6, the world watched a violent attack on the Capitol Building, an international symbol of America's representative democracy. Following the attack, experts were quick to weigh in on the obvious mental toll of the insurrection on the American psyche. According to Dr. Jeffrey Gellar, President of the American Psychiatric Association, "Americans are hurting in the pandemic and this makes the pain, fear and stress that many of us are feeling much worse" (ABC News).  Additionally, NAMI, the National Alliance on Mental Illness, released the following statement: 
"The images of mobs storming the seat of our nation's government are deeply troubling, scary and may negatively impact the mental health of many Americans from all backgrounds. An attack on our democracy affects us all, no matter our political views. We call upon an end to the violence on Capitol Hill. As the nation's largest grassroots mental health organization, we offer our resources to help the nation heal. We continue to strive to deliver help and hope to all who need it. We are deeply saddened by this traumatic event. You are not alone."
In October of 2020, Mental Health America released its annual State of Mental Health in America Report for the seventh year in a row, which ranks all 50 states and DC based on several mental health and access measures. Vermont is ranked first for the lowest prevalence of mental illness and highest access rates to care, while Nevada ranks at 51. California comes in at 25, and Arizona ranks near the bottom of the list at 40th.
The report noted there are record numbers of people reporting anxiety and depression fueled by the loneliness and isolation of COVID and the related quarantines, as well as alarming numbers of children reporting thoughts of suicide and self-harm. Specifically, according to the report, 19% of Americans (47.1 million) are living with a mental health condition, which is an increase of 1.5 million over last year's report. Furthermore, the MHA notes that states are unprepared to meet the growing crisis: "even in states with the greatest access, over 38% are not receiving the mental health services they need." And because of the high rates of unemployment, there have been significant increases in the percentage of uninsured adults with a mental illness, which is the first time there has been an increase since the Affordable Care Act was passed.
Ways to Prioritize Your Mental Health
Interestingly enough, an overwhelming majority (95%!) of Americans recognize that mental health should be a priority, but yet only 26% prioritize mental health over physical health, at least according to a study done in partnership between research company Morning Consult and Aetna. So how can we all prioritize our mental health and aim for a positive mental attitude, all things considered? We know many of these suggestions are easier said than done, but here are some tips we compiled. 
Stay Active.

Staying physically active has benefits beyond the physical, it also improves mental health. Exercise stimulates the release and uptake of endorphins in the brain – those feel-good chemicals! Even a short burst of exercise such as a 10-minute brisk walk or bike ride increases mental alertness, energy, and increases a positive mood. Plus, spending time outside can reduce stress, anxiety, and fatigue.
Practice Self-Care.

Many think of self-care as pampering yourself with a spa-day, and that certainly counts! Find time every day for things that bring you joy – a bubble bath, reading a book, cooking a favorite recipe. At the very least, focus on the basics – commit to making healthier everyday choices such as eating well and getting enough sleep (in addition to exercise, of course).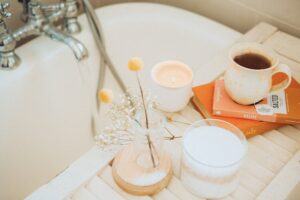 Start a Gratitude Journal.

Life certainly hasn't been kind to many of us this past year, but there are always plenty of things to be thankful for. Make it a priority to deliberately and actively focus on the positive to avoid being overwhelmed by the negative. As you go throughout your day, jot down or make mental note of the things that make you smile, whether it's your coffee tasting just right or finishing a huge project at work. 
Take a Mental Health Screening.

From the comfort of your home, you can take a confidential and free

mental health assessment

from Doctor on Demand to determine how anxiety, stress, or depression are impacting your life.

Mental Health America

also offers a variety of tests to screen for symptoms of a mental health condition. 

Talk to a Therapist or Psychiatrist.

One of the most important things you can do to prioritize your mental health is to talk to a professional. And you don't have to be struggling to benefit from speaking to a mental health professional. As mentioned previously, if you have health insurance, chances are good that your policy provides some level of coverage. Read on for more information. 
Does My Health Insurance Plan Cover Mental Health Services?
We can help you navigate your employer-sponsored plan or otherwise, but here are some general need-to-knows:
Employer-Sponsored Healthcare:

If you work for a company with 50 or more full-time employees, they are legally mandated to provide health insurance, but the mandate does not specify that mental health services are included as a benefit. If it is included, insurance companies require a mental health diagnosis before they'll pay a claim for therapeutic services. For companies under 50 employees who choose to provide health insurance to their employees, mental health services and substance use disorder services have to be included. 
Health Insurance Marketplace Plans:

Thanks to the Affordable Care Act, all plans purchased through the Health Insurance Marketplace, whether they're state or federally managed, have to cover 10 essential health benefits, including mental health services and substance abuse services. Plans must include:
Behavior health treatments, such as psychotherapy and counseling.

Behavioral and mental health inpatient services.

Coverage for pre-existing conditions.

No yearly or lifetime dollar limits on mental health coverage.

Parity protections so that copays, coinsurance, and deductibles for mental health services are similar or the same to those for medical and surgical benefits.
Medicaid:

Medicaid plans vary from state to state, but all state-run Medicaid plans are required to cover essential health benefits, including mental health and services to combat substance abuse.
Medicaid in Arizona, or

AHCCCS

: Arizona's Medicaid Agency covers a variety of Behavioral Health services including: counseling, substance abuse treatment, and crisis services.  

Medicaid in California, or Medi-Cal: California's health insurance program for low-income individuals is Medi-Cal, and coverage includes treatment for mental illness and substance abuse. In fact, news outlet

CalMatters

reports that more and more Californians with mental illness are ditching their private insurance to get their treatments covered by Medi-Cal. 
Medicare:

Coverage varies by plan:

Part A, or original Medicare: covers inpatient behavioral health and substance use services. If you're hospitalized, there may be coinsurance costs and a deductible per benefit period.

Part B: Medicare Part B covers outpatient mental health services, including an annual depression screening. There may be out-of-pocket costs for therapy, including the Part B deductible, copays, and coinsurance.

Medicare Advantage (Part C): Therapeutic services at the same level or greater than original Medicare will be automatically covered.  

CHIP (Children's Health Insurance Program): CHIP coverage varies from state to state, but most provide a variety of mental health services, including: therapy, counseling, medication management, social work services, peer supports, and substance abuse disorder treatments.
LR-J Health Solutions is Committed to Keeping You Healthy
As we venture into another year of uncertainty, we hope you are confident in your choice of LR-J Health Solutions as your health insurance broker. Please don't hesitate to contact us to discuss your healthcare options; we can also be reached via phone at 480.779.8253 or via email – [email protected]. We hope to hear from you, and we wish you well.