For Phoenicians, the weather is certainly warming up, but there's still many activities to enjoy around the Valley of the Sun. Getting outside into the fresh air and sunshine can have an amazingly positive impact on mental health, and at LR-J Health Solutions, we care about our clients' overall health and well-being. As a health insurance broker based out of Phoenix, we help individuals and families in both Arizona and California navigate their health insurance options, and many of our clients are just like us – transplants from California to Arizona thankful to live in this beautiful desert oasis most of the year, but also desperate to survive this crazy summer heat! Overall, one of the best parts of what we do is building relationships with our clients and getting to see them live healthy, happy lives. So, we've rounded up some of the best outdoor spots to check out around the Valley and just outside of Phoenix, all while still staying cool.
Staying Healthy and Active This Summer
We certainly don't fancy ourselves as mental health experts, but the experts all agree – getting outside into the fresh air and sunshine can positively impact your mental health, and overall well-being. As a health insurance agent, health is obviously a top priority for us, and we want our clients to be healthy, happy, and covered. According to research from Scientific Reports, as reported by nature.com, "A growing body of epidemiological evidence indicates that greater exposure to, or 'contact with', natural environments (such as parks, woodlands and beaches) is associated with better health and well-being, at least among populations in high income, largely urbanized, societies."
Phoenix is definitely a sprawl, with largely urbanized areas, and the summer can obviously be brutal, causing most people to want to retreat indoors in the cool air conditioning. But, there's still much to be enjoyed outside, as long as you focus on staying hydrated and take precautions to safely soak up that sunshine.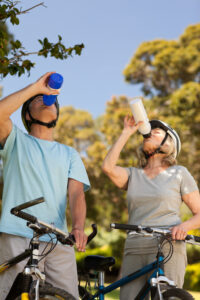 Last summer, we highlighted some tips for staying healthy throughout the Phoenix summer, in our blog, "Here's to a Healthy, Happy Summer." Here's a recap of our top three tips:
Hydrate, hydrate, hydrate. Water is simply essential to staying healthy and cool in a climate like Phoenix, plus all the other countless benefits- so chug-a-lug that H2O, friends!
Stay sun-safe. Phoenix is literally the Valley of the Sun, and anyone can tell you the damaging effects the sun can have on your skin and more. Slather on sunscreen (including on your face), and rock hats and sunglasses whenever possible to protect yourself!
Eat lighter, healthier foods. Eating lighter in the summer often comes naturally, because the heat doesn't make anyone want to turn on their oven or stuff themselves with heavy foods. Take advantage of all the refreshing berries of summer, and opt for fruits and veggies with high water contents like carrots, cucumber, watermelon, peaches, pineapple, celery, peppers, eggplant, cantaloupe, and lettuce.
Getting Outside in Phoenix, Even in the Summer
There's plenty to do around Phoenix and just outside of the Valley to soak up a healthy amount of Vitamin D and a whole lotta fresh air.
Hit a Hiking Trail. Yes, you can go hiking in the summer here! It's just recommended to hit the trails super early, or even go on a night hike. Maricopa County Parks offer after-dark hikes, mountain-bike rides, scorpion hunts, and more. Check out a schedule at https://www.maricopacountyparks.net/events/.
Spend the Day at the Lake.
There are plenty of lakes around the Valley to enjoy, whether you hang on the shoreline or go out on a boat or jetski. Here's a list of lakes to enjoy:
Lake Pleasant. Located in the northwest valley, this popular spot for locals is spread over 10,000 acres, and has a wide range of activities for water sports or camping and hiking along the shore.
Saguaro Lake. Located east of Phoenix, surrounded by towering canyon walls and amidst the lush Tonto National Forest, this lake offers sailing, water skiing, and plenty of kayaking.
Canyon Lake. This smaller lake (950-acres) is another great place for a variety of watersports in addition to camping and hiking. Boat rentals are available and the lake has a popular day-use campground with a large grass area, shady ramadas and a swimming-only section of the lake.
Apache Lake. Also along the Salt River in the Tonto National Forest, Apache Lake is known for its boating and trout fishing, as well as some pretty incredible scenic canyon walls. There are some great camping spots, but it also offers a motel and restaurant along the lake.
Enjoy Tempe Town Lake. A different kind of lake, Tempe Town Lake is a local hot spot surrounded by shops and restaurants, but that also has a lot of cool activities on the water. While it's a non-swimming lake, you can rent donut boats, electric boats, kayaks, pedal-boats and stand-up paddle boards. Check out boats4rent.com for details.
Check out a Resort!
Phoenix is home to some of the most beautiful and luxurious resorts you can find. You can certainly plan a staycation and really treat yourself to an amazing experience complete with pool time and royal treatment at one of their day spas, but you can also opt for just taking advantage of the resort pools through resortpass.com. Pick a date and a location and book a more affordable experience than a hotel stay while still getting to enjoy all the resort has to offer!
Escape the Heat!
Sometimes, you just gotta escape the Phoenix summer. Luckily, driving a couple hours in nearly any direction away from Phoenix will get you into a cooler climate with stunning views. Sedona has breathtaking red rocks and the cool waters of Oak Creek to enjoy. Flagstaff has endless hiking trails, lakes, and fun outdoor activities. Lake Havasu to the west offers boating, fishing, hiking, biking, and so much more. Even Tucson two hours south has a slightly cooler climate, and some amazing places to shop, dine, and hike.
LR-J Health Solutions Wishes the Best This Summer!
It often seems like there's pressure to have the most epic adventures at every opportunity. With rising costs, your best bet may be to just stay local this summer and focus on all this amazing city has to offer. There's a big wide world out there right in our own backyard, so we hope you take advantage of the opportunities to get outside and enjoy life. But, however you spend the summer, LR-J wishes you the happiest and healthiest of days. If you're looking to save money and find more affordable health insurance options all while ensuring you're adequately covered, we can certainly help. We love to personally connect with individuals and families and get to know their specific needs and goals, so please don't hesitate to reach out with your questions. We can also be reached via phone at 480.779.8253 or via email – [email protected]. We look forward to hearing from you!